Eastern Standard

Liner Notes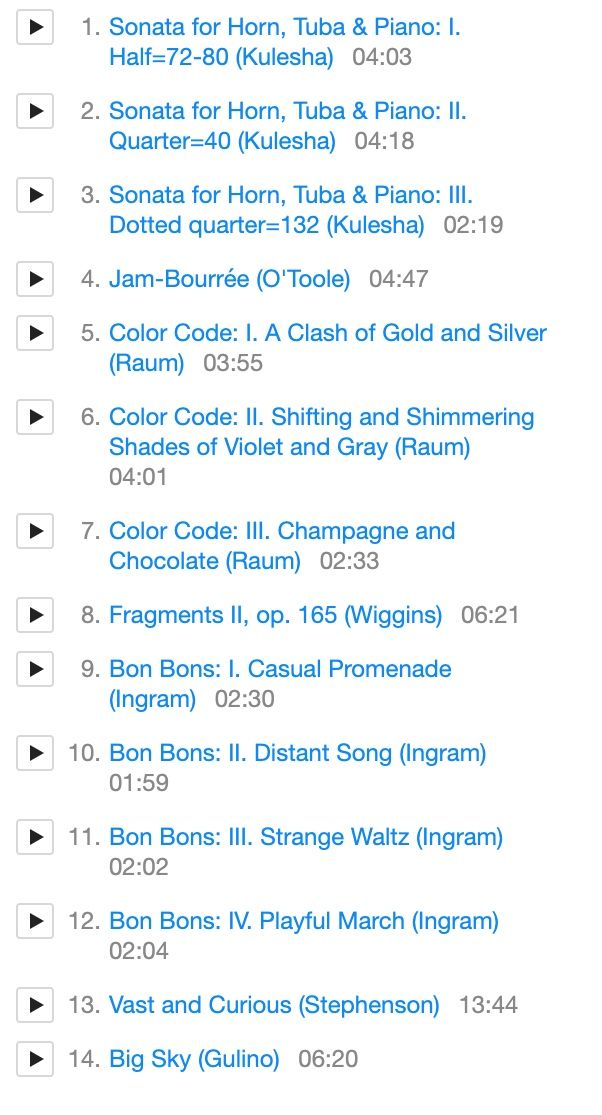 Eastern Standard Liner Notes/Track Info
1-3. Sonata for Horn, Tuba, and Piano
Premiere Information: Gary Pattison, horn; Scott Irvine, tuba; Gary Kulesha, piano; Walter Hall, 1999 Toronto, Canada
I. Half = 72-80
II. Quarter = 40
III. Dotted quarter = 132
From the composer, Gary Kulesha:
My Sonata for Horn, Tuba, and Piano remains one of my most performed works. It was composed for Scott Irvine, tuba, and Gary Pattison, horn, for a recital and was premiered by the three of us in Walter Hall, in Toronto, Ontario.
The work follows a pattern which I have continued to pursue to this day. During the 1970s, it was rather expected for a young composer to work in traditional sonata form, and to use the word "sonata" in the title. But the sonata form suits my compositional goals perfectly, and I continue to use it, albeit in a much altered way, in my most recent works.
Cast in a traditional 3 movement form, the Sonata is classically Fast-Slow-Fast. The first and third movements are virtuoso displays for everyone involved, while the second is very simple and lyrical.
I re-visited this work late in 2014, 39 years and 4 weeks after its completion, to re-notate it, and to add some simple edits. There are no actual changes to the notes, but there are some added and modified slurs and articulations, as well as some minor changes to the dynamics.
About the composer (from his website):
www.kulesha.com
GARY KULESHA is one of Canada's most active and most visible musicians. Although principally a composer, he is active as both a pianist and a conductor, and as a teacher.
Mr. Kulesha's music has been commissioned, performed, and recorded by musicians and ensembles all over the world. His "Angels" for Marimba and Tape has become a standard repertoire item for percussionists, and receives over a hundred performances per year. His works for Danish recorder virtuoso Michala Petri are toured by her throughout the world each year, and have been recorded on RCA Red Seal. Over 15,000 copies have been sold in Europe alone. Works such as "Mysterium Coniunctionis" for Clarinet, Bass Clarinet, and Piano, and the Sonata for Horn, Tuba, and Piano, are performed regularly in England and Europe, and are often taught as part of performance curricula in these places. "Celebration Overture" is one of the most performed orchestral pieces written in Canada. "Four Fantastic Landscapes" has entered the repertoire of several noted pianists from Canada and Europe. Mr. Kulesha's first opera, "Red Emma", was included in Opera America's book of "Operas which should be performed more often", beside works by Copland, Bernstein, and Weill.
In 1988, he was appointed Composer In Residence with the Kitchener-Waterloo Symphony Orchestra, a position he held until 1992. In 1993, he was appointed Composer In Residence with the Canadian Opera Company, a position he held until the end of 1995. "Red Emma" was premiered on Nov. 28, 1995. On Sept. 1 of 1995, he was appointed Composer-Advisor to The Toronto Symphony Orchestra, where his duties include composing, conducting, and advising on repertoire. In February of 1998, the TSO premiered his "Symphony" for two conductors and orchestra, with Jukka Pekka Saraste and Gary Kulesha conducting. In winter of 1999, the TSO took his work "The Gates of Time" on their American tour. In February of 2000, the TSO premiered "The True Colour of the Sky" in Toronto, prior to taking it on their European tour. As well, the TSO presented the Symphony again, in November of 2000, as part of the Massey Hall New Music Festival. The Symphony was awarded a prize at the Winnipeg Symphony New Music Festival in 2001 as Best Canadian Orchestra Composition of the 1990s. The Symphony opened the Vancouver Symphony Orchestra's 2001-2002 season, on a programme with Beethoven's 9th Symphony. In November of 2000, Music Canada 2000 premiered his second opera, written in collaboration with librettist Michael Albano. In March of 2005, the Toronto Symphony Orchestra premiered Second Symphony, conducted by Oliver Knussen. In November of 2006, Shauna Rolston premiered Concerto for Cello and Orchestra with the Vancouver Symphony Orchestra conducted by Bramwell Tovey. In May of 2007, the National Arts Centre Orchestra premiered Third Symphony, conducted by Roberto Minczuk.
On March 19, 2002, Mr. Kulesha was one of three composers awarded the first National Arts Centre Orchestra Composer Award. This began an extended relationship with the NACO and its Artistic Director, Pinchas Zuckerman. Mr. Kulesha has toured twice with Mr. Zukerman and the orchestra, and has written several works for them.
In 1990, Mr. Kulesha was nominated for a Juno award for his "Third Chamber Concerto." He was nominated again in 2000 for "The Book of Mirrors." In 1986, he was named Composer of the Year by PROCanada, the youngest composer ever so honoured. Also in 1986, he represented Canada at the International Rostrum of Composers in Paris. In the summer of 1990, he was the first composer ever appointed to the position of Composer In Residence with the Festival of the Sound in Parry Sound, Ontario. He continued to direct this programme from 1996 until 2004. In July of 1998, Mr. Kulesha was, with Krzystztof Penderecki, one of the two Composers in Residence at the Banff Centre's summer session. He returned to the Banff Centre in 2002 as a Fleck Fellow, to direct the chamber orchestra programme. He returned again in 2004 and in February of 2005. Mr. Kulesha has directed the National Arts Centre Orchestra's Young Composers Programme twice, and is scheduled to return in the summer of 2007.
An active supporter of young composers and performers, Mr. Kulesha was the Artistic Director of The Composers' Orchestra from 1987, stepping down in 2004 in favour of three young composers. His conducting activities are extensive, and he has premiered literally hundreds of works. He has guest conducted frequently with several major orchestras throughout Canada, and has recorded for radio and CD. Although he is well-known as a specialist in 20th Century music, his repertoire is extensive, ranging from little-known Baroque music through to the music of our time.
Mr. Kulesha was one of the chief architects of the Massey Hall New Music Festival, which ran for 7 years from 1995-2002. He is currently assisting Toronto Symphony Music Director Peter Oundjian with the design and programming of the Toronto Symphony's New Creations Festival, the most successful new music festival in the history of Canadian music.
Mr. Kulesha is on the fulltime faculty of the Faculty of Music at the University of Toronto.
Gary Kulesha lives in Toronto with his wife, composer Larysa Kuzmenko.
​
4. Jam-Bourrée
​
Premiere Information: Eastern Standard (Heidi Lucas horn; Zach Collins, tuba; Jacob Ertl, piano), International Horn Symposium 2015, Los Angeles, CA
From the composer, Anthony O'Toole:
"Jam-Bourrée" was written in February of 2015 for the Eastern Standard Trio and is scored for horn, tuba, electric Piano, and percussion. The genesis of the piece came from a rather terrible musical pun I thought of that I had put in a sketchbook of ideas dating back to the summer of 2012.
A pure expression of my tendencies towards polystylism in my music, this composition fuses together a repetitive jam figure first heard in the electric piano and the musical style of the French Baroque dance.
The modal harmonic vocabulary of the jam is derivative of jazz/funk/fusion music. The Bouree makes uses of the sonic trademarks of Renaissance and Baroque music; notably the Passamezzo Antico and the Andalusian Cadence (also modal).
As the piece progresses the jam figure becomes less dominant, and the bourree becomes the dominant style. Then as the piece fades away the jam takes over again. With lots of overlap in style and harmonic languages.
This piece, too me, is very special and important in my canon of over 100 works. Not only because it is written for such immensely talents musicians not because it is for my former teachers, but because this piece took one night to write. Often as a composer you struggle with finding that starting point, that 'inspiration.'
Seldom is a piece easy to pull out of one's mind but occasionally (in my experiences) the music just appears! So "Jam-Bourrée" is very special to me, for a multitude of reasons.
About the composer (from his website):
anthonyotoolemusic.weebly.com/biography.html
Anthony O'Toole holds a BA in Music Theory and Composition from Indiana University of Pennsylvania and a MM of Composition from George Mason University where he was recognized by the university as a distinguished graduate for his achievements as a composer and musician. Since he began writing in his teens he has composed more than 100 works over the last 10 years and has written for virtually every major idiom and instrument.
Mr. O'Toole is primarily self-taught as a composer but credits his mentors, Jack Stamp and Mark Camphouse as being pivotal to his development as a composer and musician. Anthony has also had the opportunity to learn and engage with many respected composers such as Richard Danielpour, Dana Wilson, Frank Ticheli, Cindy McTee, George Crumb, Ryan Nowlin, Drew Hemenger, George Crumb and others.
His music has been commissioned and performed by musicians and ensembles all around the world. Mr. O'Toole's music for wind band has been performed and recorded by some of the finest bands including the United States Coast Guard Band, The Kansas State University Wind Ensemble, 'The President's Own' United States Marine Band, The University of North Texas Wind Symphony, The Singapore Wind Symphony, The Alabama Winds and others. His piece "Fanfare to 'The Hammer'" is featured in the 10th edition of the GIA Publications series 'Teaching Music Through Performance in Band'; which features a recording by the UNT Wind Symphony an in-depth analysis of the work. Hammer also appears in the 'Sourcebook for Wind Band and Instrumental Music' by Russ Girsberger, Frank L. Battisti, and William Berz.
He has received numerous awards for his compositions including the Grand Prize in the 2012 Garritan Composition Contest, and Second Place in the 2014 Van Galen Prize for wind chamber music. In 2014 Mr. O'Toole was inducted into the Sigma Alpha Iota Music Fraternity as an honorary member for his musical contributions. He is also a member of Phi Mu Alpha Music Fraternity, ASCAP and The American Composer's Federation. Anthony currently resides in Long Beach, CA where he fulfills his commissions for new works and does orchestrations and arrangements as a freelance writer; he also serves as Composer-in-Residence for the Carson Symphony Orchestra and Staff Arranger for the Southern California Brass Consortium.
​
5-7. Color Code
​
Premiere Information: TubaCor (Lin Foulk, horn; Deanna Swoboda, tuba; with Alex Thio, piano) IWBC 2010, Toronto, Canada
From the composer, Elizabeth Raum:
When I started working on a new work for horn, tuba, and piano, I had no thoughts as to what I would call it or what direction it would take. However, as often happens in composition, the piece took on a life of its own with three movements of contrasting moods. I thought that might be a good name, "Moods,"but I woke up one morning with the word "Colors," on my mind, and that soon morphed into "Color Code." There has been evidence that colors affect one's mood so this seemed a perfect alternative. Also, each movement has a pair of colors to represent the horn and the tuba.
Now I had to figure out what colors would best represent each movement. The first is dissonant and militaristic with the driving accented rhythm and sudden dynamic changes. The horn and the tuba repeat each other's phrases, almost as in a competition. The quiet middle section has an ominous undercurrent, a lull in the battle. So when I thought about the colors of this movement, it occurred to me that the horn is generally a gold colored instrument and the tuba, silver. (Although it can be either silver or gold, for this purpose I decided it would be sliver.) Thus the name, A Clash of Gold and Silver.
The second movement begins full of tragedy and melancholy calling to mind the dark and forbidding colors of violet and gray. The movement shifts between one shade of despair to another, as in Shifting and Shimmering Shades of Violet and Gray. The opening choral-like section is suddenly interrupted by the repressed anger of the hand muted horn. The tuba and piano join, expressing growing angst until the first theme intercedes with an attempt to calm the anxiety, but it is thwarted again and again until finally a resignation is apparent although it's left to the last movement to brighten the spirits.
What better colors to signify having fun than Champagne and Chocolate! This movement's sprightly and humorous themes, rather tongue in cheek, bring Color Code to a fitting and happy conclusion.
About the composer (from her website):
elizabethraum.com/artist.html
Elizabeth Raum is both principal oboist with the Regina Symphony Orchestra and a composer. She earned her Bachelor of Music in oboe performance from the Eastman School of Music, her Master of Music in composition from the University of Regina, and in May of 2004, she was awarded an honorary doctorate in Humane Letters from Mt. St. Vincent University in Halifax, Nova Scotia. She is also an associate member of the Canadian Music Centre.
Her works have been heard throughout North America, Europe, South America, China, Japan, and Russia, and have been broadcast extensively on the CBC. She has also written for film and video and has won awards for the scores to the documentaries, Saskatchewan River; Like Mother, Like Daughter; and the feature length film, Sparkle. She produced Canada's first classical video with originally written music entitled, Evolution: A Theme With Variations, which was premiered at a gala event at the CBC in 1986. Other film collaborations include Prelude to Parting, The Green Man Ballet, and Symphony of Youth, all broadcast on national television.
An extremely prolific composer, her works include 3 operas, over 60 chamber pieces, 17 vocal works, choral works including an oratorio, several ballets, concerti and major orchestral works. She enjoys a reputation of being one of Canada's most "accessible" composers, writing for varied mediums and in remarkably diverse styles.
She has written for some of the world finest artists including the St. Lawrence String Quartet, Canadian soprano, Tracy Dahl, trombone virtuoso, Christian Lindberg, tuba icon, Roger Bobo, New York Philharmonic principal horn, Philip Myers, the percussion ensemble, Nexus, and her daughter, Erika Raum. She recently completed major commissions by the Winnipeg Ballet and Symphony Nova Scotia.
Raum has a number of commercial CD releases including the Regina Symphony Orchestra recording of her Prairie Alphabet Musical Parade, inspired by the popular children's book, A Prairie Alphabet; The Legend of Heimdall, recorded by the Orchestra of the Capella of St. Petersburg, Russia, with John Griffiths, soloist,; Renovated Rhymes commissioned and recorded by Trio Ariana for their CD, Incantations and Rhymes; Sonata for Piano Four Hands, commissioned and recorded by the Tucson Winter Chamber Music Festival and performed by Kevin Fitz-Gerald and Bernadine Blaha; Requiem for Wounded Knee recorded by tuba duo, Don Harry and John Griffiths; Pantheon for violin, horn, and piano recorded at The Banff Centre by Erika Raum, David Hoyt, and Janet Scott-Hoyt; and her most recent CD, how bodies leave ecstatic marks, won the award for Best Classical Composition for a the 2008 Western Music Award.
Ms. Raum is included in the New Grove's Dictionary of Music and Musicians, the New Grove's Dictionary of Opera, and the New Grove's Dictionary of Women Composers as well as numerous other publications.
​
8. Fragments II, op. 165
​
Premiere Information: Eastern Standard (Heidi Lucas, horn; Zach Collins, tuba; Jacob Ertl, piano), International Horn Symposium 2015, Los Angeles, CA
From the composer, Christopher Wiggins:
Fragments II, op. 165 was commissioned in the Spring of 2015 by Eastern Standard and was premiered at the 47th International Horn Symposium in Los Angeles in August 2015. The piece, although in one movement, is, essentially in three short sections, similar in concept to a Sonatina. The tonal language is neoclassical with all three instrumental voices considered as "equal", as opposed to being accompanied by the piano.
Fragments II is the second piece for horn with more "unusual" instruments, the first (Fragments I, op. 164) being scored for horn, trombone and tuba, and further such pieces for different instrumental combinations are planned.
About the composer (from the Fuller Music website):
www.fullermusic.co.uk/spweb/news.php?story=146
Christopher Wiggins (born 1956) studied at the Universities of Liverpool, Leeds (Bretton Hall College), London (Goldsmiths College) and Surrey, specialising in composition. He was awarded the Allsop Prize for composition (Liverpool) in 1977 and the Wangford Composers' Prize in 1991. His music has been performed in over 30 countries worldwide and broadcast in five.
His output includes choral, orchestral, chamber (including three String Quartets, Opp. 1, 89 & 106), solo and educational pieces. A sizeable proportion of his output (over 30 pieces) is for horn/horn ensemble and these pieces have been extensively performed, particularly in the USA. His music is published in the UK, the USA and the Netherlands.
Since 1989 Mr Wiggins has enjoyed close links with Estonia and conducted a number of broadcast concerts in Tallinn in the early 1990s. He organised a fund-raising campaign in early 1992 which enabled 35 young musicians and their teachers to visit and work with members of one of the Bedfordshire Youth Orchestras at Easter that year. He was a member of the Luton Symphony Orchestra for over 15 years, becoming an Associate Conductor and representing that orchestra on the Luton Arts Council. He was also the first Music Director of the Luton University Orchestra.
He has been a teacher for over 20 years and also served as an external examiner and moderator for GCSE music for several years. Since 1995 he has served as a visiting examiner for 'A' Level music.
He became a member of the Composers' Guild of Great Britain in the mid-1980s, joining the PRS soon afterwards, and served on the Executive Committee of the Composers' Guild from 1993 until 1996. He is currently a member of the British Academy of Composers & Songwriters, the International Horn Society, ESTA (UK), the MCPS, a friend of the British Music Information Centre, and an Ordinary Member of Convocation of the University of London.
​
9-12. Bon Bons for Horn, Tuba, and Piano
​
Premiere Information: Isoceles Trio (Heidi Lucas, horn; Richard Perry, tuba; Lois Leventhal, piano), Marsh Auditorium, 2011, Hattiesburg, MS
From the composer, Charles Ingram:
Charles Ingram's "Bonbons", a 9 minute suite consisting of four movements, was composed in 2011 for the Isosceles Trio.
The first movement is semi autobiographical in that it's a reminiscence of afternoon strolls through the fields and meadows of the 116 acre farm that was owned by the composer's grandfather.
The second movement recalls a song against the vastness of nature as one might experience it in the big sky country of Montana
The third movement has been likened to a kinder and gentler Mephisto waltz. It tends towards tonal uncertainty which is reinforced with the descending octaves in the piano at the end of the movement.
The last movement is a straightforward playful march that pays homage to the patriotic marches of John Philip Sousa.
About the composer (from the jwpepper.com website):
www.jwpepper.com/myscore/charles-ingram
Charles Ingram (b. 1951) a native of Gulfport, Mississippi holds degrees in composition from the University of Southern Mississippi where he studied with William Presser and Luigi Zaninelli, and in Choral Music from the University of Southern California where he studied with Charles Hirt, James Vail and Thomas Sommerville. After retiring in 2008 as Professor of Music at Los Angeles Southwest College, he moved to Covington, Georgia where he devotes his full time to composition. Most of his recent compositions have been commissions for songs, solo brass instruments with piano and various combinations of brass instruments. His most recent commission was for the Blenheim Trio (Horn, Trombone and Tuba) and was premiered at Wright State University in Dayton Ohio. His recent choral setting of Go, Lovely Rose for SSAA/Piano and Horn, and his setting of the African-American spiritual, I Wanna Be Ready were written for and premiered by the Miami University of Ohio Choraliers under the direction of Dr. William Bausano. His setting of When David Heard was premiered by the Southeast Missouri State University Choir under the direction of Dr. Peter J. Durow.
​
13. Vast and Curious
​
I. Quarter = 176, si possible
II. Adagio rubato: quarter = 40
III. Allegro festive, quarter = c. 160
Premiere Information: Gail Williams, horn; Steven Campbell, tuba; Kay Kim, piano, ITEC 2014, Bloomington, IN
From the composer, James Stephenson:
"Vast and Curious" is a result of a international micro-commission including talented musicians who are also wonderful people. I put out an announcement that I'd love to write a trio for horn, tuba and piano, and within a very short amount of time, the below list was realized, all of whom supported the project enthusiastically.
The work is in three movements. The title is of course a pun on "Fast and "Furious", which also musically inspires the piece. In mine, the "curious" part is mostly exemplified in the first movement, where I took on the most unique challenge of scoring the entire thing in unison (with displaced octaves) for all three players. An energetic line worms its way throughout, providing a performance challenge I hope to be both be exhilarating and worthwhile. The "vast" is represented by the tuba, of course, but also in the 2nd movement I scored with a wide-open sensibility, representing Gail Williams' (premiering horn player) love for the mountains. I also desired to provide some space between the outer two frenetic movements. The last movement is mainly a romp to the finish with fun melodies and galloping rhythms.
*Eastern Standard has chosen to present this piece as one combined track of the three individual movements, since the composer has indicated in the score that the movements should merge with each-other in an attaca fashion.
About the composer (from his website):
stephensonmusic.com/jimbio.htm
(b. 1969) Chicago area composer James Stephenson's works have been performed by leading American orchestras and around the world, and have been hailed by critics as having "straightforward, unabashedly beautiful sounds" and "Stephenson deserves to be heard again and again!" (Boston Herald). His music incorporates a fresh and energizing sound scape that engages the audience while maintaining integrity and worthwhile challenges for the performing musicians. This rare combination has rewarded Stephenson with a host of ongoing commissions and projects.
Recent Stephenson premieres include two new violin concertos performed by the Minnesota Orchestra (Osmo Vanska conducting, Jennifer Frautschi, violin) and the Rhode Island Philharmonic (Larry Rachleff with Alex Kerr). These works, along with his oboe concerto, were commissioned by the esteemed Minnesota Commissioning Club, and proved a wonderful boost to his early career as full-timer composer. His 2nd trumpet concerto has been performed on five continents since its premiere in Australia by Rex Richardson in 2010. His growing catalog now boasts concertos and sonatas for nearly every wind instrument, in addition to the violin and piano. Commissions for solo works have come from principal players in the the symphonies of Chicago, Boston, NY Phil, Philadelphia and Minnesota Orchestra, Washington DC (National), Oregon, Dallas, among others.
Stephenson is also active in the concert band world, with premieres occurring at major venues such as the 2010 Midwest Clinic, TMEA (Texas Music Educators) and the ABA (American Bandmasters Association) convention, the latter with the US "President's Own" Marine Band. In the spring of 2014, his music will be premiered/performed at four consecutive CBDNA and ABA regional conferences.
His landmark educational work, Compose Yourself!, has now been performed over 250 times since its creation in 2002, and will see performances by five more orchestras this season as well. Also active as a highly sought-after arranger, Stephenson's arrangements have been performed/recorded/broadcast by virtually every major orchestra in the country, including the Boston Pops, Cincinnati Pops, NY Pops and more. Recently having added conducting to his musical palette, Stephenson has already been engaged on several occasions with orchestras in Charleston, Modesto, Ft. Myers and Lake Forest, IL.
Before moving to Lake Forest as a full-time composer/conductor, Stephenson spent 17 seasons with the Naples (FL) Philharmonic as a trumpeter, a position he won immediately upon graduating from the New England Conservatory of Music. When not writing music, he enjoys spending time with wife, Sally, and four children, or doing almost any sporting activity!
Stephenson is currently enjoying a position of Composer-in-Residence with the Lake Forest Symphony.
​
14.
Premiere Information: Eastern Standard (Heidi Lucas, horn; Zach Collins, tuba; Jacob Ertl, piano), Northeast Regional Tuba/Euphonium Conference 2015, Ithaca, NY
From the composer, Frank Gulino:
When I was approached by Eastern Standard about writing a new piece for the group, I immediately knew I wanted to craft something that would capitalize on the strengths of the relatively unique combination of horn, tuba, and piano. Both hailing from the conical family of brass instruments, the horn and tuba both possess a wonderfully rich, round sonority that isn't as inherent in directional brass instruments such as the trumpet and trombone, and it's a sound that lends itself to creating a broad range of colors and textures. I set out to write something that would make the most of those characteristics, with the addition of piano to provide rhythmic clarity and harmonic context. Big Sky is the resulting work.
The piece relies heavily on traditional notions of melody and harmony, with phrases that move toward and away from certain notes in a satisfying, almost predictable way. The combination of sweeping melodic lines, open intervals, and driving rhythms produce a sound that is at times atmospheric, at times triumphant, and at still other times almost songlike. Big Sky is an addition to what I hope will be a growing repertoire for horn, tuba, and piano, capturing many of the moods and colors this combination of instruments is able to achieve.
About the composer (from his website):
www.frankgulino.com/biography.html
Frank Gulino, a native of New York City, now lives in the Washington, D.C., metropolitan area, where he maintains an active schedule as a composer and serves as the bass trombonist of the Prince George's Philharmonic. Frank is a graduate of The Peabody Conservatory of The Johns Hopkins University, where he earned a Bachelor of Music degree in Bass Trombone Performance. At Peabody, he studied with Randy Campora and Jim Olin of the Baltimore Symphony Orchestra (BSO). Frank has also studied trombone with David Fedderly of the BSO, Vincent Belford of the New Jersey Symphony Orchestra and jazz artist Bob Ferrel.
As a trombonist, Frank has performed at venues such as The Music Center at Strathmore, the New Jersey Performing Arts Center (NJPAC), and the Joseph Meyerhoff Symphony Hall, home of the BSO. While at Peabody, Frank appeared with the BSO brass section and served as the bass trombonist of the Peabody Symphony Orchestra, Peabody Concert Orchestra and the Peabody Wind Ensemble, one of the nation's premier collegiate wind bands. Frank can be heard on a number of recordings with the Peabody Wind Ensemble, each released on the Naxos record label. Frank is an artist/clinician for the Edwards Instrument Company and performs exclusively on Edwards trombones and Griego Mouthpieces.
As a composer, Frank has had works commissioned, performed, and commercially recorded by some of the world's foremost brass players, including euphonium virtuoso Steven Mead, St. Louis Symphony Orchestra bass trombonist Gerry Pagano, Atlanta Symphony Orchestra bass trombonist Brian Hecht, and Christopher Dudley, principal trombonist of the Bergen Filharmoniske Orkester in Bergen, Norway. In addition, Frank's works have been performed at venues around the world, such as the John F. Kennedy Center for the Performing Arts and the United States Capitol in Washington, D.C.; the Joseph Alessi Seminar in Fossano, Italy; the Eastern Trombone Workshop; the Lasnamäe Muusikakool in Tallinn, Estonia; the Korskirken in Bergen, Norway; the Jāzeps Vītols Latvian Academy of Music in Riga, Latvia; the Jeju Arts Center in Jeju Province, South Korea; and dozens of colleges, universities, and conservatories, both domestically and abroad. Frank is a member of the American Society of Composers, Authors and Publishers (ASCAP) and received ASCAP Plus Awards in 2013, 2014, and 2015.
A flattering 2009 review of Frank's early work, Sonatina, in the International Trombone Association Journal first brought attention to his contemporary brass compositions. The 2010 season began with premieres of Frank's Worlds Apart and Two Serenades on conservatory degree recitals, followed by the premiere of Tornado, by Steven Mead with members of the Estonian National Symphony Orchestra, and culminated in Frank's first major commissioned work, Capriccio for trombone and wind ensemble, written for Christopher Dudley. Following the completion of several new works and a favorable review of Tornado in the International Tuba Euphonium Association Journal in the fall of 2011, Frank was awarded the inaugural commission project of the EuphoniumCommissions.orgconsortium, a group formed expressly for the purpose of funding new additions to the low brass repertoire. The resulting work, Infinite Escape, was premiered by Steven Mead in July of 2012. Since then, Frank's music has appeared on concert programs domestically and internationally, as well as on Ubiquity, a bass trombone solo album released by Gerry Pagano in October of 2014. Frank's first work for concert band, Skyline, was named a 2015 Editors' Choice by J.W. Pepper, one of the world's premier sheet music distributors.
Frank's works, published by The FJH Music Company, Cimarron Music Press, and 200 Miles to Arnstadt Publications, are available from major music distributors all over the world, including J.W. Pepper, Hickey's Music Center, SheetMusicPlus, and many others. Additionally, Frank's work has been selected for inclusion on both the Maryland Music Educators Association (MMEA) and the New York State School Music Association (NYSSMA) repertoire lists.
​
released December 23, 2015
EASTERN STANDARD
Heidi Lucas, horn
Zach Collins, tuba
Jacob Ertl, piano
Bruce Tychinski, producer
Cody Robinson, engineer
Tam To & Courtney Kunkle, artwork
Thank you to Dr. Mark Piwinsky, Dr. Lacey Fulton, Jenelle Dickason and the students from the Indiana University of Pennsylvania Center for Media Production and Research for their help with production planning and execution. This project was made possible with a grant from the IUP Senate Research Committee.
Recorded July 30-August 4, 2015 in Cogswell Hall, Indiana University of Pennsylvania.